Description
The MR8740T (MR8740-50) is rack-mountable data acquisition system that delivers high-speed, multi-channel measurements over maximum of 108 channels. Generate simulated signals and record at the same time using plug-and-play input units, making the waveform recorder ideal for evaluating multi-signal devices such as vehicle electronic control units (ECU).
Key Features
• Ideal for multipoint inspection of high performance boards such as ECU
• 108ch analog to 96ch analog + 48ch logic input
• Reduce time required to save to external media to max.1/100 compared with conventional method
• 20 MS/s simultaneous sampling on all channels
• Safe measurement with all analog inputs isolated
• Supports 4K monitor to display multi-channel waveforms without overlapping
• Measure 4 channels with 1 unit (4 ch analog Unit U8975, 4 ch DVM Unit U8991)
• Generate constant voltage, constant current, and simulated resistance (VIR Generator Unit U8794)

ECU TESTING
ECUs are connected to a large number and wide variety of sensors. The MR8740T can be installed with signal generation unit to simulate these sensors. By measuring the simulation results with a measurement unit at the same time, you can perform all steps from signal generation to measurement with a single device. The U8794 VIR GENERATOR UNIT also offers resistance output to enable thermistor circuit testing.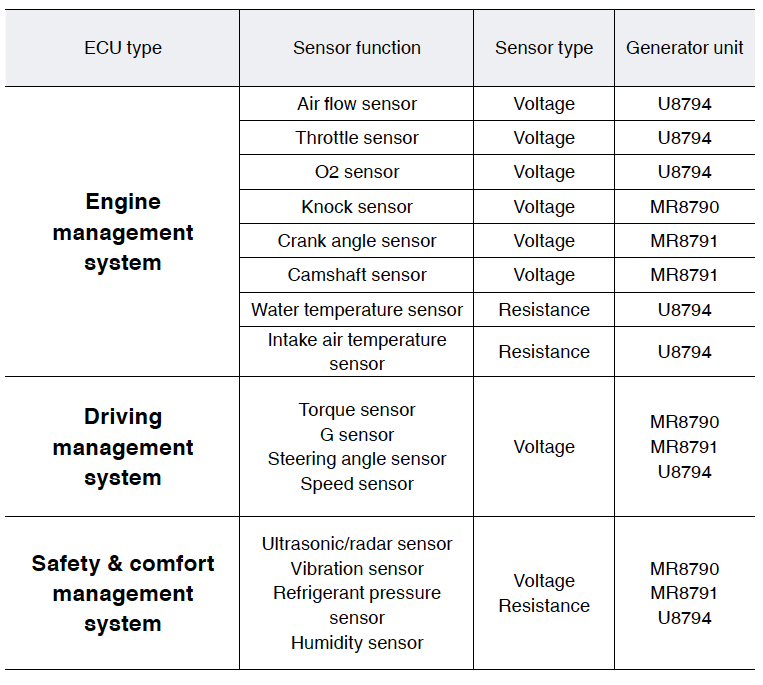 IDEAL FOR TESTING THAT REQUIRES SIMULATED SIGNALS
When used as an ECU testing device, generate simulated signals from various sensors, which is indispensable for testing electronic parts and maintaining equipment. Record signals captured by various sensors to identify air flow, throttle, torque, speed, vibration, humidity, etc.